The integration between Diakrit and Campaigntrack will need to be set up before this process can be followed. For more information, please contact your Diakrit Account Manager.
Placing an order in Campaigntrack
Log in to Campaigntrack and select the property. Once inside the property screen, click on the Shopping Cart tab.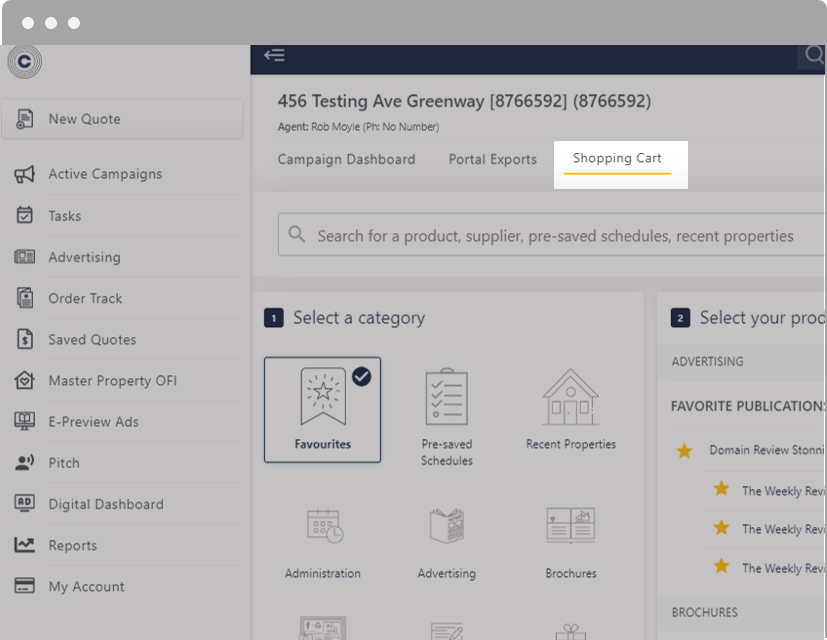 In the Select a Category section, click Photography. Choose your desired Diakrit package in the menu to the right.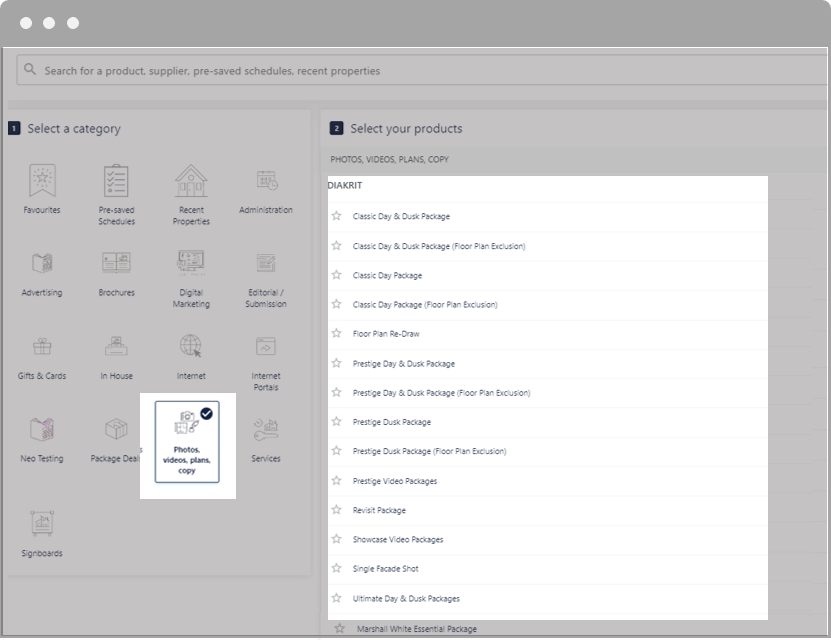 Select any additional products you wish to order for this specific listing. If you don't select any add-ons during this stage, they will not be included in the final Campaigntrack quote. Once you have selected all of your products, click Add To Campaign.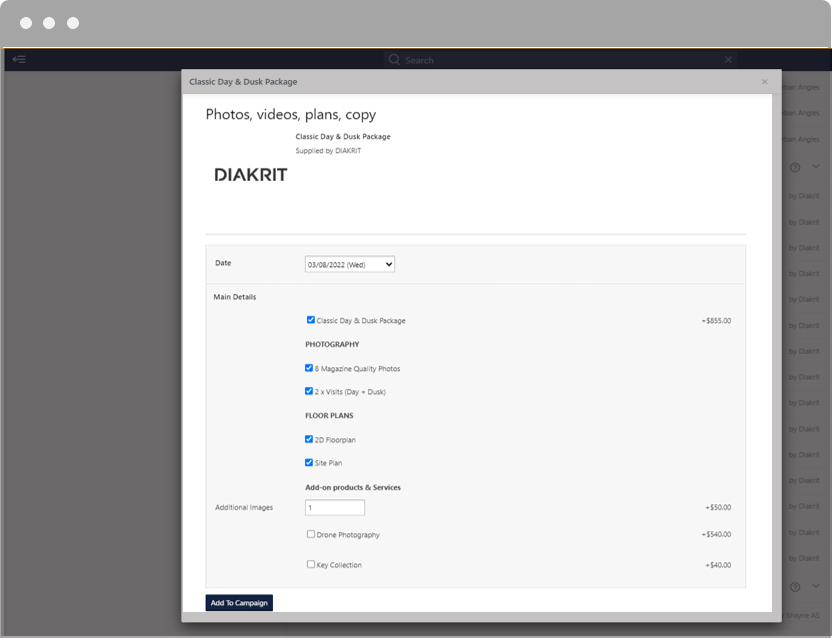 Review your order and confirm everything you have selected is correct. Then click Confirm Order to confirm the quote.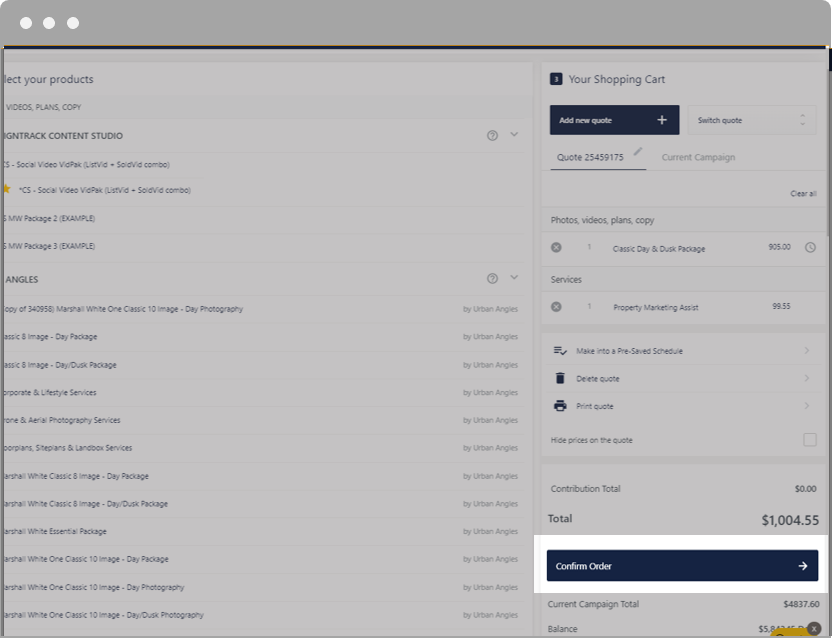 Go back to the Campaign Dashboard tab, and under Tasks to the right of the screen, click the Book Diakrit Appointment button. This will open a new window taking you to the Diakrit shop.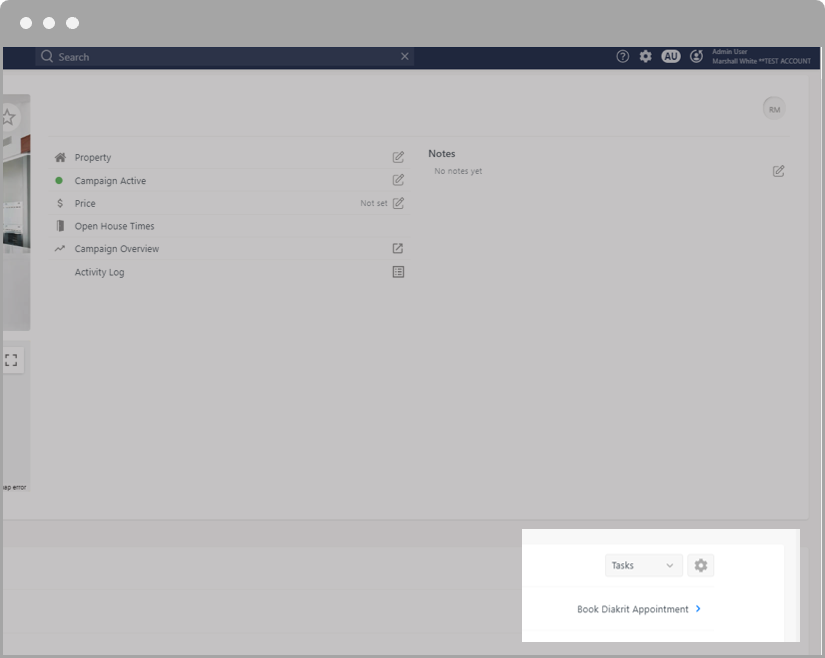 Once inside the Diakrit shop, all of the property information should be prefilled on the property details page. Confirm all details are correct and add any additional comments in the comment box at the bottom of the page. We recommend adding any important information for our photographers to know beforehand here. Click Proceed to move to the next page.

Once on the Photographer Booking Calendar page, use the filters to find a photographer, day and time that suits you. Select the time slot available to make your booking alternatively, and contact our Customer Solutions team to assist you. Click Proceed in the pop-up box to confirm your booking.

Your booking is now booked in, and you can click on each of the tabs to see the booking details. You will receive an order receipt for every product ordered.


Collecting your Diakrit products in Campaigntrack
You will receive a delivery email for every Diakrit product once it has been delivered. To view your deliveries, go to the Campaign Dashboard tab in Campaigntrack. In the Content Panel section, click Options and then click Retrieve Diakrit Images. A pop-up box will come up where you need to click Confirm.

The images will begin to upload, this might take a few minutes. Once the upload is finished, the order status will update to Complete.